Back to Layouts List
Parking Apply Permit
Content 1
Apply for a parking permit for the first time
Parking permits allow you to park in car parks or on-street areas where a permit is required, otherwise known as controlled parking zones.
Controlled parking zones can be identified in Medway by this sign: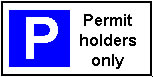 There are different types of permit you can buy:
Resident permits - If your home address is in an area where parking permits are required, you can buy a resident parking permit. This will allow you to park in a resident permit space.
Visitor permits - Residents in a permit area can buy one visitor permit per property. This can be used on any vehicle and will allow any visitor who comes to your property to park in a resident permit space.
Business permits - Any business in Medway or professionals carrying out work in the area can buy a business permit. You can choose from a permit for one single parking zone or for all parking zones in Medway.
Carer permits - These permits are for professionals who need to park in a permit area to provide help and care in the community. Restricted to a maximum stay of 2 hours.
Late night permits - These allow the permit holder to park in a single car park between 7pm and 9am. You can only use the car park specified on the permit.
Worshippers permit – This permit allows residents with a faith to park in the permit area nearest to their place of worship. The permit can only be assigned to one day of the week and used during a 3-hour time slot.
<header class="page-header">
  <div>
    <h1>Apply for a parking permit for the first time</h1>
  </div>
</header>
<div class="article-container group">
  <div class="content-block">
    <div class="inner">
      <aside>
        <div class="inner">
          <nav role="navigation" class="page-navigation page-navigation-closed" aria-label="parts to this guide">
            <ol>
              <li class="active">
                <span class="part-number">1.</span>
                <span>Types of parking permit</span>
              </li>
              <li>
                <span class="part-number">2.</span>
                <a href="content_2" title="Part 2: Apply for a parking permit">Apply for a parking permit</a>
              </li>
              <li>
                <span class="part-number">3.</span>
                <a href="content_3" title="Part 3: Change your permit details">Change your permit details</a>
              </li>
            </ol>
            <ol start="4">
              <li>
                <span class="part-number">4.</span>
                <a href="content_4" title="Part 4: Renew your parking permit">Renew your parking permit</a>
              </li>
              <li>
                <span class="part-number">5.</span>
                <a href="content_5" title="Part 5: Parking permit replacements">Parking permit replacements</a>
              </li>
              <li>
                <span class="part-number">6.</span>
                <a href="content_6" title="Part 6: Permit terms and conditions">Permit terms and conditions</a>
              </li>
            </ol>
          </nav>
        </div>
      </aside>

      <header>
        <h1>Types of permit</h1>
      </header>

      <p>Parking permits allow you to park in car parks or on-street areas where a permit is required, otherwise known as controlled parking zones.</p>

      <p>Controlled parking zones can be identified in Medway by this sign:</p>

      <img src="/public/images/examples/permitholdersonly.jpg" alt="Permit holders only sign">

      <p>There are different types of permit you can buy:</p>

      <ul>
        <li><b>Resident permits</b> - If your home address is in an area where parking permits are required, you can buy a resident parking permit. This will allow you to park in a resident permit space.</li>
        <li><b>Visitor permits</b> - Residents in a permit area can buy one visitor permit per property. This can be used on any vehicle and will allow any visitor who comes to your property to park in a resident permit space.</li>
        <li><b>Business permits</b> - Any business in Medway or professionals carrying out work in the area can buy a business permit. You can choose from a permit for one single parking zone or for all parking zones in Medway.</li>
        <li><b>Carer permits</b> - These permits are for professionals who need to park in a permit area to provide help and care in the community. Restricted to a maximum stay of 2 hours.</li>
        <li><b>Late night permits</b> - These allow the permit holder to park in a single car park between 7pm and 9am. You can only use the car park specified on the permit.</li>
        <li><b>Worshippers permit</b> – This permit allows residents with a faith to park in the permit area nearest to their place of worship. The permit can only be assigned to one day of the week and used during a 3-hour time slot.</li>
      </ul>

      <footer>
        <nav class="pagination" role="navigation" aria-label="Pagination">
          <ul class="group">
            <li class="next">
              <a href="content_2" rel="next" title="Navigate to next part">
                <span class="pagination-label">Next</span> <span class="pagination-part-title">Apply for a parking permit </span>
              </a>
            </li>
          </ul>
        </nav>
      </footer>
      <div class="print-link">
        <a href="#" rel="nofollow" target="_blank">Print entire guide</a>
      </div>
    </div>
  </div>
</div>